Semiconductor Manufacturing Facility
What is the broadest benefit of information technology?  It empowers us every day.  We can be creative.  We can be productive.  We can learn new things.  It is exciting for Purafil to support technological manufacturing: assessing the environment, controlling contamination, and monitoring to verify system performance.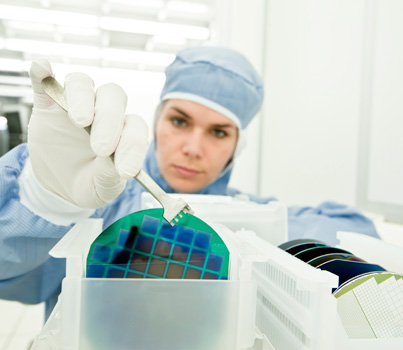 The Problem
Cleanrooms in semiconductor manufacturing facilities require a high-grade, clean air flow.  New legislation, such as RoHS, creates additional demands.  Even very low levels of corrosive gases, once considered inconsequential, have very real consequences for manufacturers.  Production downtime and product losses due to corrosion are extremely costly.
The PuraFilter® is a combination chemical and particulate filter that integrates Purafil® patented dry-scrubbing media into a non-woven fiber matrix. Partnered with an HVAC system, PuraFilters help meet building codes and regulations requiring outdoor air cleaning for PM-10, PM-2.5, and ozone. They replace existing particulate filters in retrofit or rework applications as well as being used in new construction. Also available in a high efficiency option.
The PuraGRID® is a modern new filter design that supplies a large amount of chemical filtration with a minimal amount of pressure drop. This filter offers increased operational performance and energy savings for many indoor applications. The PuraGRID can be constructed with several different chemical medias to tailor the solution to specific needs.